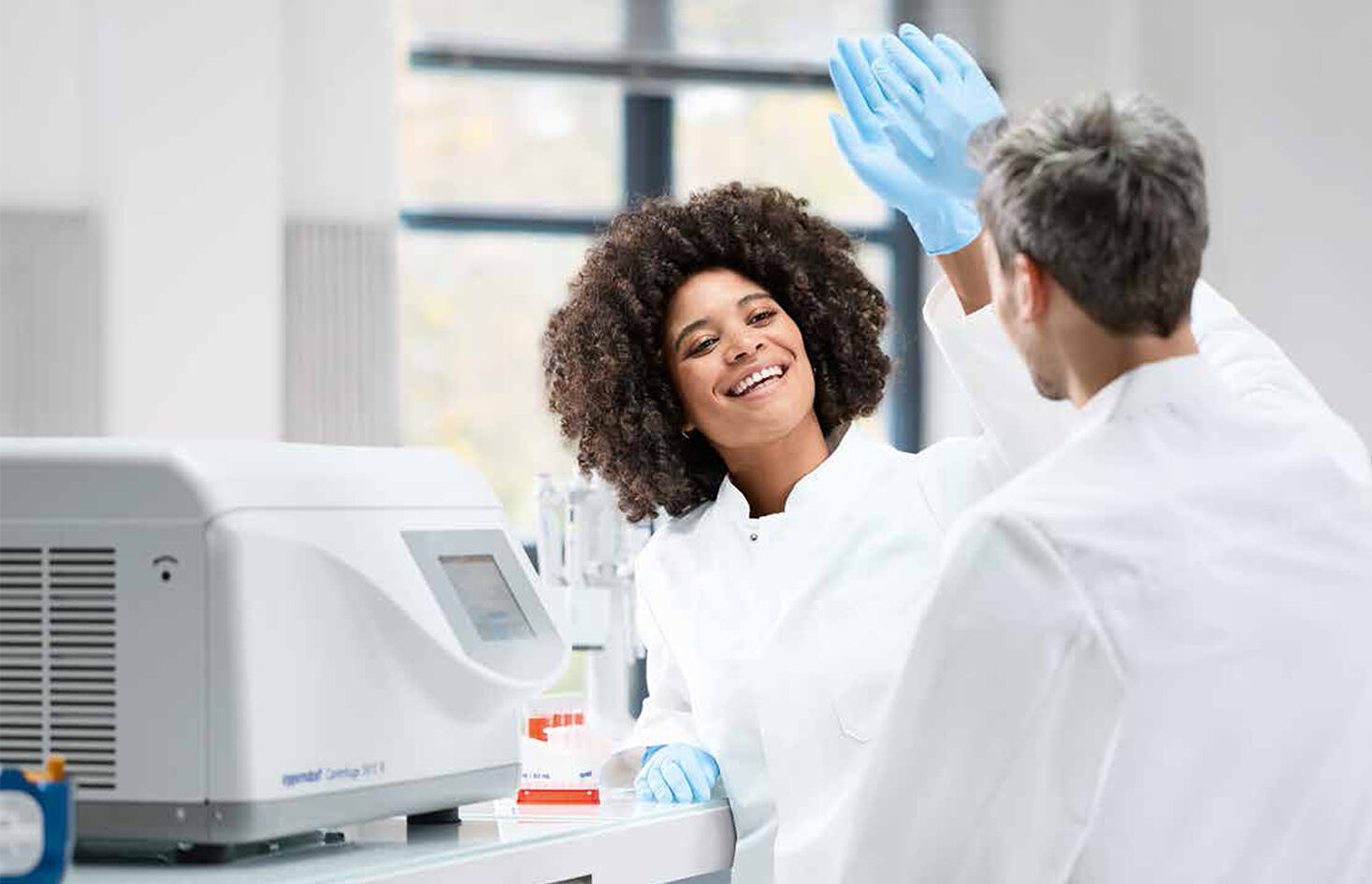 The new Eppendorf refrigerated benchtop centrifuge 5910 Ri substitutes its predecessor, the 5910 R, and excels in its versatility and convenience. The appliance pairs its high capacity (max. 56 × 15 ml / 28 × 50 ml) and first-rate performance with a compact and ergonomic footprint. Moreover, the 5910 Ri is easy to operate due to its large and intuitive 7 inch VisioNize user interface with touchscreen. Setting important parameters, such as duration, speed and temperature goes faster than ever, which results in efficient and reproducible runs. Thanks to the favorites function on the start screen, you are only three clicks away from a spin sequence.
Quality first
The centrifuge is a great asset to your quality control with its several authorization levels, password protection and detailed documentation of all settings, runs and user activities. In this way, it is always clear who has done what and when, so you can meet the GLP-criteria.
The 5910 Ri is equipped with an advanced temperature management system to ensure the quality of your samples. The latest Dynamic Compressor Control (DCC) technology provides precise cooling performance and quick pre-cooling.
Operating errors belong to the past due to the program function, which contains up to 99 programs with clearly defined parameters. Other safety features are the new rotor compatibility control, the control of the life span of the rotor and the integrated imbalance sensors. Routine tasks, such as the maintenance or cleaning of the rotor and appliance have never been more efficient thanks to the reminders which you can set yourself.
All-round applications
The 5910 Ri is suited for a wide variety of applications. Cell harvest in bottles up to 1,000 ml, large-scale DNA and RNA insulations, and Ficoll gradients for the purification of lymphocytes and monocytes are just a few examples. These all-round applications make the Eppendorf centrifuge an enrichment in every laboratory with multiple users and varying requirements. The appliance satisfies everyone's needs, both in the short and long term.
Ergonomic features
Your comfort has also been taken into account to ensure that the laboratory work always goes smoothly. The 5910 Ri has many ergonomic features, including the lowest noise level within the versatile Eppendorf range. Furthermore, the low step height is an important asset, since the centrifuge lid is within reach for everyone, making loading and unloading easier. In addition, the soft-touch lid function with automatic closing mechanism helps you to save your strength while closing the lid.
Let's get digital
Go for a digital and connected lab with Eppendorf's modular range of digital services, tailored to your needs. Remotely monitor your centrifuge 5910 Ri using electronic notifications and appliance alarms? This is possible with the VisioNize Lab Suite, which provides increased sample security and digital monitoring. In this way, you will receive a notification when your spin sequence is complete or a warning if errors occur. The VisioNize Lab Suite also gives you direct access to user guides and important service certificates.
You can easily store data about the settings and runs by exporting these as a PDF or CSV file via USB or via the VisioNize Lab Suite. Paper lying around in your lab is also a thing of the past, because you are opting for an environmentally friendly and paperless alternative with the digital lab notebook software eLABJournal.
All-encompassing accessories
The Eppendorf centrifuge 5910 Ri is available with an extensive range of accessories, such as rotors, buckets and adapters, adaptable to your needs The swing-bucket rotor S-4xUniversal, for example, makes sample treatment easier than ever with its unique, universal adapters. Thanks to this innovative system, it is possible to centrifuge plates, tubes and bottles with volumes up to 4 x 1 L, without having to change the rotors, buckets or adapters. This not only saves you time, but also costs and lab space, because you do not have to purchase or store different types of accessories.
Feel free to see for yourself what the options are:
Please contact our employees for more information about the Eppendorf centrifuge 5910 Ri or about which accessories are most suitable for your specific situation. Novolab is happy to help you!